| | |
| --- | --- |
| | June 9, 2017 - In This Issue: |

A FATHER'S DAY NEWSLETTER NOTE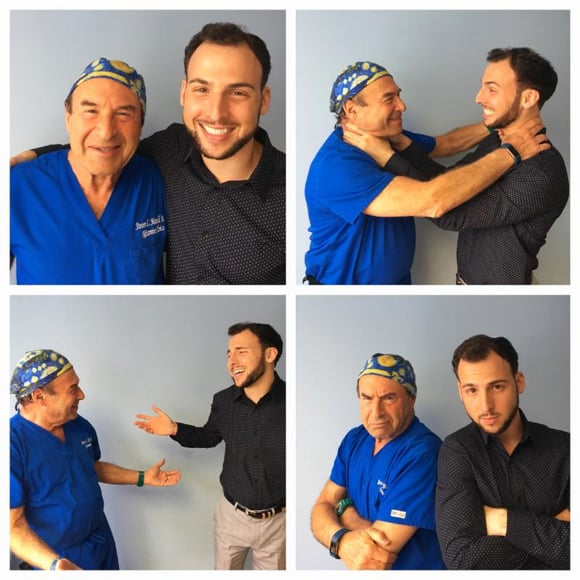 In honor of Father's Day, we want to give a shout out to the unique, hard working father and innovator Dr. Steven L. Mandel. Not every Dad has what it takes to work full-time with his son. Sam Mandel, Chief Operating Officer of Ketamine Clinics of Los Angeles, is Dr. Mandel's son, as well as his #1 fan. Dr. Mandel and Sam started the clinic together in 2014 out of a strong desire to alleviate the suffering from depression in a new and compassionate way. When talking with Sam he shares,
"The two of us have had our challenges; working together and building a business has been intense. In the early days, we shared one desk in a small 8' by 8' room; we did everything for the clinic just the two of us. Not every day was easy, but it was worth it. We never gave up our desire to help people suffering from depression, suicidality and chronic pain. I am grateful every day for our bond and for the clinic we've built together."
We appreciate the commitment these men have to this field of work. Employees and patients send thanks to this dynamic duo for all their efforts. Today, these two men lead the premiere IV Ketamine Infusion Therapy clinic in the world with 1,800 sq ft of space for patient care and a staff of 11 committed individuals.
Both father and son feel working together has been an amazing challenge that's brought them closer together. We adore the father and son duo who keep staff and patients laughing non-stop. Together, they're not short on humor or happy patients. All of us at Ketamine Clinics of Los Angeles wish Dr. Mandel and all fathers a fabulous and memorable Father's Day!
DID YOU SEE US ON CBS?
Did you miss Dr. Mandel's segment on the national news channel, CBS? This segment aired across the country and discussed the topic of depression and Dr. Mandel's proven treatment through the controlled use of Ketamine. It aired in over 200 markets throughout the nation! To watch the segment,
Click Here
(add video link) or the link below:
A LETTER FROM DR. MANDEL
Dear Friends & Family,
We've come to the halfway point of 2017! June is a month where I look forward to all the bright, celebratory, and eventful moments. With summer upon us, the outdoors are filled with flowers and butterflies, traveling is at its peak, graduations, weddings, and family reunions are officially taking place.
It's a great time to celebrate the benefits of your ketamine treatment; it's also a time to proactively dedicate yourself to maintaining your ongoing wellness.
I ask that you pay attention to any issues you have around sleep, nutrition or exercise. Focus on renewing your commitments to those whom you care about. Enjoy your success and plan to stay ahead of your depression. Be proactive by putting things in place to maintain the balance that you got from your infusions.
You may wish to consider a booster in advance of a family reunion or long trip which may jeopardize your mood. Those of you who are comfortable and confident in staying energetic during these times may wish to book a booster as part of a recovery plan for reentry to the world following that seven-day summer vacation. It's wise to have something in place to help with the letdown known as vacation blues. We all know how difficult it can be to re-acclimate to work.
Our team at Ketamine Clinics of Los Angeles wishes you a relaxed and rejuvenating summer experience. If there's any way we can help you enjoy the sunshine a little bit more, give us a call.
DR. MANDEL SPOKE ON NAMI JUNE 7TH -"SOLUTIONS FOR MENTAL ILLNESS"
We are excited to share that Dr. Mandel's talk on NAMI (National Alliance on Mental Illness) this past Wednesday was a huge success. His topic, Mental Illness, was well received with listeners hopeful to learn about how Dr. Mandel's Ketamine Therapy could potentially help friends and/or loved ones finally conquer their ongoing suffering. To hear a portion of the speech, CLICK HERE. We will be loading the full 45 minutes speech by next week, so please be sure to visit
https://www.ketamineclinics.com/June-Newsletter.

INTERESTING ARTICLES
10 EFFECTIVE TIPS TO PREVENT BURNOUT:
"When you burnout at work or elsewhere, you feel diminished-like a part of yourself has gone into hiding. Many resources are vital for our everyday activities and well-being, from personal qualities like skills, emotional stability, and good health to supportive relationships with colleagues, autonomy and control at work, constructive feedback, having a say in matters that affect us, and feeling that our work makes a difference. Check out these 10 easy ways to take care of yourself when you experience a burnout." Read More...
IT'S NOT WHAT YOU THINK (CHRIS CORNELL):
"Thursday morning. His band Soundgarden played a show on Wednesday night at the Fox Theater in Detroit. Two hours after the show ended, he was gone.
For two days, I've been working on a piece to pay tribute to him, and it's been a struggle. Usually when I have a problem like this it's because I'm staring at a blank screen trying to figure out what I want to say. That's not the problem this time. The problem is I have way too much to say."
Read More...
ALL THINGS CONSIDERED
"All Things Considered segment by Jon Hamilton about the current state of ketamine research" Click Here to read more...
"It isn't normal for the normally staid psychiatric establishment to express this much excitement over a treatment for an often intractable and deadly condition - it's a sign that it's time to start bigger, more rigorous, and demanding trials. Which is exactly what it sounds like is going to happen."
MORE NEWS OF INTEREST
MARK YOUR CALENDAR:

We're hosting a dinner to raise money for Veterans on

July 2nd

. There will be two very special guests; NY Fireman Joe Torillo ,who was buried by both of the twin towers on 9/11 and multi Emmy nominated actor and activist Jack Scalia! If you want to attend, let us know. Space is limited and we're looking for guests who want to support the cause. There will be dinner and drinks, inspiring speeches, live music, an incredible silent auction, and more!
We are still looking for an LVN and an NP/PA to build our team. Please call our office if you're interested at 310-270-0625.
Pass the word along if you know someone who may be interested. We are offering a generous finder's fee for any referral we hire who stays with our company for at least three months!
We have updated our brochure, click HERE to download.
CALL FOR MORE INFORMATION
Take control of your life, start feeling better today!
Discover how Ketamine Treatments can relieve

Depression

and Chronic Pain!