A new study analyzing the comparative efficacy and tolerability of racemic ketamine and esketamine (the ketamine-based nasal spray referred to as SPRAVATO®) for the treatment of depression has been released. The results show that racemic ketamine administered intravenously demonstrates greater overall response and remission from depression, change in depression severity, suicidality, retention in treatment, drop-outs, and drop-outs due to adverse events.
Published individual clinical trials and data sources have been confirming ketamine's effectiveness over esketamine for years. This is the first time a collective of studies has been meta-analyzed and synthesized to find and compare rate rations (RRs) for treatment response, disorder remission, adverse events, and withdrawals as well as standardized mean differences (SMDs) for change in symptoms, via random-effects meta-analyses.
Ketamine Infusion Therapy vs. Esketamine (SPRAVATO®)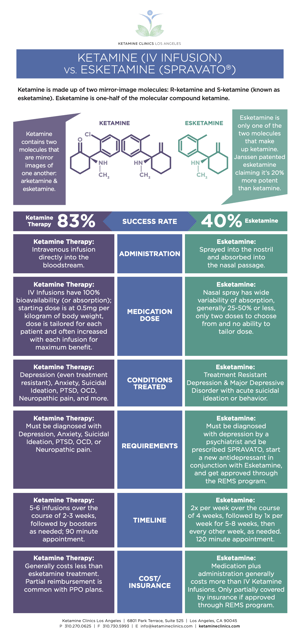 Ketamine is FDA-approved as an anesthetic. Its use for depression via the IV route of administration is off-label. One third of psychiatric medications are prescribed off-label in the U.S., so it's a very common practice. "Off-label" simply means that the medicine is found to be helpful for conditions or demographics it wasn't originally approved for.
Ketamine is made up of two mirror-image molecules: R-ketamine and S-ketamine (known as esketamine). Esketamine ("S-ketamine") is literally one-half of the molecular compound ketamine.
SPRAVATO® is a prescription medicine composed of esketamine to help treat adults who suffer from treatment-resistant depression and major depressive disorder (MDD) with acute suicidal ideation or behavior. It is self-administered as a nasal spray under the careful supervision of a clinician in a doctor's office. SPRAVATO® is patented by Johnson & Johnson's drug company, Janssen Pharmaceuticals, Inc.
It's important to note that there have been no direct clinical trials conducted that compare SPRAVATO® to IV Ketamine. SPRAVATO® is relatively new, and therefore, the studies are still limited. The clinical trials that have been performed were done so under Janssen Pharmaceuticals to earn FDA approval, so there are no objective, independent findings.
There are certain requirements that must be met in order to qualify for SPRAVATO®, such as the patient beginning a new antidepressant. This further complicates assessments, as any measurable improvement cannot be attributed solely to esketamine.
At Ketamine Clinics Los Angeles, SPRAVATO® is shown to be around 40% effective at best, compared to the 83% success among our patients who find relief from their depression symptoms through IV Ketamine Infusions.
About the Study
Authors of the study analyzed peer-reviewed academic literature to synthesize evidence for the comparative efficacy and acceptability of ketamine and esketamine. Twenty-four randomized controlled trials representing 1,877 participants were identified, and data across studies were pooled by way of systematic review and meta-analysis. Ketamine relative to esketamine demonstrated greater overall response rate ratio (RR = 3.01 vs. RR = 1.38), higher remission rates (RR = 3.70 vs. RR = 1.47), and fewer dropouts (RR = 0.76 vs. RR = 1.37).
What's next for Ketamine Infusion Therapy? Ketamine appears to be more efficacious than esketamine for the treatment of depression, but additional head-to-head comparisons are needed to confirm the present findings. The FDA's approval of SPRAVATO® for treatment-resistant depression and MDD with suicidal ideation or behavior legitimizes ketamine as an effective treatment option. In the best-case scenario, this is simply the first step in making this powerful treatment widely available to the millions of Americans suffering from depression and other mood disorders.