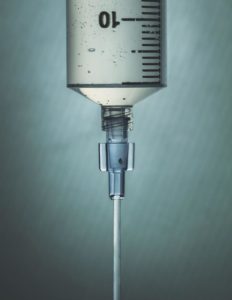 In 2000, a study published by Berman et al. compared the effects of Ketamine Infusion Therapy to a saline placebo. The results showed a reduction in the Hamilton Depression Rating Scale (Ham-D). This was one of the first suggestions that ketamine could be beneficial in treating mental health disorders.
Researchers believed that since previous investigations on treatment of mental health disorders have focused on the monoamines (such as dopamine, norepinephrine, and serotonin), this treatment approach may have promising potential.
The stellar and judicious Dr. Steven Mandel of Ketamine Clinics of Los Angeles provides ketamine infusion treatments to patients in Los Angeles, Beverly Hills, Orange County, California, and surrounding locations in this area of the nation.
How does Ketamine Work?
Although current psychiatric guidelines for treatment of major depressive disorder (MDD), post-traumatic stress disorder (PTSD), and suicidal ideation do not include statements regarding the use of ketamine, but research increasingly points towards the benefits of Ketamine Therapy in addressing mental disorders.
Ketamine is a fast-acting, non-competitive N-methyl-D-aspartate (NMDA) receptor antagonist that is used as a general anesthetic with analgesic properties used in human medicine. The NMDA receptor mediates glutamate neurotransmission in the brain. Researchers believe that a dysfunction in this regulation may play a role in the etiology of depressive symptoms.
Ketamine helps balance the dysfunction by blocking the NMDA receptor. Mild side effects such as vivid dreams and a dissociative effect may occur in some patients, but for many people, the benefits of Ketamine Infusion Therapy outweigh the temporary side effects.
Administering Ketamine Therapy
Ketamine can be given through several routes including intravenous push or infusions, intramuscular, intranasal, and orally. Researchers have primarility utilized IV infusions due to the precise dosing and ability to adjust if known side effects occur.
Patients who receive ketamine require close monitoring of blood pressure, heart rate, respiratory rate, as well as for recovery reactions when ketamine wears off. Therefore, the patient should ideally receive the Ketamine Infusion Therapy at a professional ketamine clinic under the supervision of an expert.
Although there is a current lack of direction from major psychiatric associations, the utility of ketamine for certain mental health disorders is becoming increasingly evident. Patients and treatment providers both provide encouraging feedback after ketamine treatments and its efficacy in addressing certain types of mental disorders.
The clinical effectiveness of intravenous ketamine for the treatment of depression, PTSD, and suicidal ideation continues to be a matter of research, but the results so far are largely favorable according to patients and ketamine specialists.
Post Traumatic Stress Disorder (PTSD)
There is only limited availability of good quality evidence to fully support IV ketamine in patients experiencing PTSD as only one randomized controlled trial (RCT) was identified. This is a new area for the use of a NMDA receptor antagonist and although more evidence with validated outcomes is required to ascertain the clinical effectiveness of IV ketamine in PTSD, the currently available evidence is optimistic.
The fundamental and cutting edge Dr. Mandel of Ketamine Clinics of Los Angeles receives patients from Los Angeles, Beverly Hills, Orange County, California, and other communities and suburbs in this part of California for ketamine infusion treatments.
For more information about Ketamine Infusion Therapy treatments for depression, bipolar, anxiety, post-traumatic stress disorder (PTSD), obsessive compulsive disorder (OCD), fibromyalgia, pain syndromes and other conditions contact us at the Ketamine Clinics of Los Angeles in Southern California (Orange County) by clicking here or calling 310-270-0625
Treating patients from Los Angeles, Beverly Hills, Orange County, San Diego, Palm Springs, San Francisco, Sacramento, CA, Northern & Southern California, Las Vegas, NV and many other cities from west to east coast.