Retired and active duty law enforcement officers can now try ketamine therapy to relieve chronic pain, depression symptoms, and other mood disorders, at a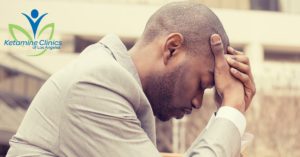 discount. A Los Angeles clinic is extending a 10% discount to law enforcement officials so that more people seeking alternative pain relief and depression treatment have more options.
Thousands of law enforcement officers suffer from chronic pain or other conditions, such as PTSD, depression, and other mental health issues. Since many of these conditions are caused by brain chemistry imbalances, most have to seek professional help to resolve symptoms and lead a better quality of life. According to a study by the Ruderman Family Foundation, a philanthropic organization that works for the rights of those who have depression, post-traumatic stress disorder, and disabilities, first responders have some of the highest rates of suicide in departments around the country.
In 2017 alone, 140 police officers committed suicide while 129 officers died in the line of duty. This is a startling number that indicates many officers suffering from depression don't seek help soon enough to mitigate the risk of suicide. For those who do seek help, prescription drugs may not be enough to manage symptoms, so alternatives need to be explored.
Relief from Depression with Ketamine Therapy
Ketamine therapy shows promise as an alternative to prescription drugs for depression and other mental health conditions. Originally used in the medical field as a powerful anesthetic, ketamine is now being tested for off-label uses in low doses. Recent studies show that low-dose ketamine therapy can have a positive effect on those who have treatment-resistant depression and can be a viable alternative to prescription medication.
Ketamine Therapy for Chronic Pain
A series of IV ketamine infusion therapy treatments may also help those who are suffering from chronic pain. Given the high rates of opioid abuse and the need to find alternative treatments to get relief from pain, ketamine therapy offers hope for many law enforcement officers living with chronic pain. IV Ketamine Infusion Therapy is easy to administer and can be administered over a series of a few days to provide adequate relief. There are no known side effects when given at low doses, and clinical studies and research so far have shown promising results.
Ketamine therapy is now readily available at clinics for those who want to try treatment alternatives for depression, chronic pain, and PTSD. Law enforcement personnel in Los Angeles can get ketamine infusion therapy at Ketamine Clinics of Los Angeles, California, and receive a 10% discount on treatment. The clinic offers ketamine therapy for several conditions in a private, state-of-the-art facility.
For more information about Ketamine Infusion Therapy treatments for depression, bipolar, anxiety, post-traumatic stress disorder (PTSD), obsessive compulsive disorder (OCD), fibromyalgia, pain syndromes and other conditions contact us at Ketamine Clinics of Los Angeles in Southern California (Orange County) by clicking here or calling 310-270-0625.