How to Treat PTSD With Ketamine IV Infusion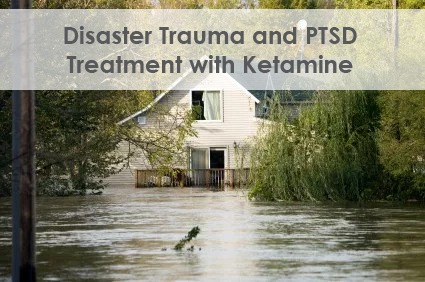 Natural as well as manmade disasters cause devastation in the lives of thousands of people every year. Disasters such as earthquakes, hurricanes, floods, fires, tornados, or explosions will expose the victims to the danger of physical injury or death.
The victims may also lose their house, possessions, and community. These stressors will place the victim at a higher risk of developing physical and emotional health problems.
Some victims may react to the problems or losses that occur after the disaster, while some others may respond to triggers or reminders of the trauma at a later stage. The stress reactions may be quite similar to the reactions commonly seen after any type of trauma. Ketamine infusion treatments can be used to help the patients who develop Post Traumatic Stress Disorder (PTSD) following an adverse experience or trauma in a disaster.
Ketamine Clinics of Los Angeles, led by Dr. Steven L Mandel, provides cutting edge Ketamine Infusion Therapy solutions to patients of PTSD in Los Angeles, Beverly Hills, California, and other cities and neighborhoods in this part of the Southwest.
Risk Factors
A few critical risk factors will increase the chances of a victim suffering from longer lasting or more severe stress reactions following a disaster. A customized Ketamine Therapy may have to be provided to address the specific condition of the patient suffering from symptoms of PTSD.
Victims who go through the disaster themselves are at the highest risk of developing future psychological health problems, including PTSD symptoms. The next are people who are in close contact with the victim.
Those who only had an indirect exposure, such as news of the major damage, will be at a lower risk of lasting impact. Injury and threat to life are the factors most often lead to PTSD symptoms. Clinical care is usually essential for these survivors who suffer from acute distress or mental health problems.
Girls and women almost always suffer more negative effects of a disaster than do boys and men. Recovery after the disaster is more stressful when children are present at home. Marital stress may also increase after the disaster.
Ketamine Infusion Therapy
PTSD is a complex disorder that has become increasingly common, but treatments in conventional medicine are still lacking. However, over the last few years, researchers and physicians have found excellent response in the treatment of PTSD symptoms with ketamine infusion treatments.
Ketamine Therapy has emerged as a new alternative treatment for people who did not respond successfully to other treatment options for PTSD. The treatment is given intravenously at sub-anesthetic doses (0.5 mg/kg) making it safe as an in-office treatment, and with minimal and temporary side effects.
One of the important benefits of Ketamine Infusion Therapy over oral medication sis that if a patient is going to respond positively to ketamine, they will notice an improvement in their symptoms within hours to days rather than weeks to months. Research has shown that even a single infusion of ketamine (over 40 minutes) can cause a rapid reduction in PTSD symptoms.
Dr. Mandel receives patients for ketamine infusion treatments from Los Angeles, Beverly Hills, California, and nearby areas.
For more information about treatments for depression, bipolar, anxiety, post-traumatic stress disorder (PTSD), obsessive compulsive disorder (OCD), fibromyalgia, pain syndromes and other conditions contact us at the Ketamine Clinics of Los Angeles in Southern California (Orange County) by clicking here or calling 310-270-0625
Treating patients from LA, Beverly Hills, Orange County, San Diego, Palm Springs, San Francisco, Sacramento,CA, Las Vegas, NV and many other cities from west to east coast.